A Stylish Life is about women who inspire me, are leaders in their field and above all else, have style in spades. She's a wife and mother with a heart of gold, but Andy Dinan is turning the Melbourne art world on its head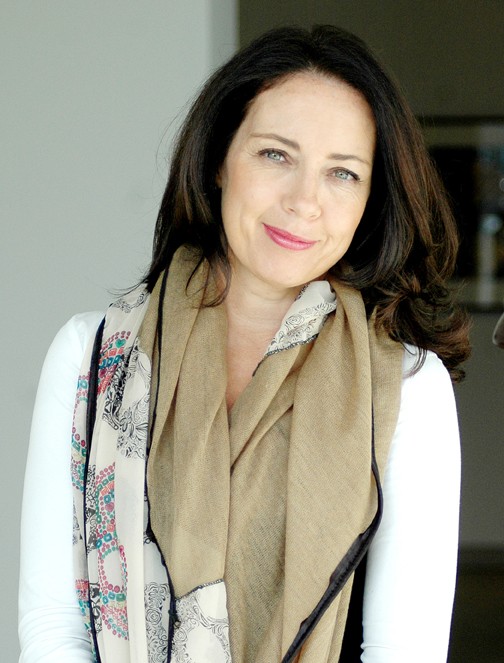 ANDY Dinan is a self-confessed art addict. Starting out as an art collector 25 years ago, the founder – and force – behind the hugely successful Melbourne Art Rooms is now happily entrenched as a gallerist.
I first met Andy in the mid 1990s when she was forging a reputation as one of Australia's most dynamic PR consultants. So it was only natural she establish her own agency, PR Works, a creative hot shop that quickly gained a reputation. But after 10 successful years at the helm, she sold her company to focus on her penchant for the arts.
With a philosophy of  "knowing what she definitely didn't want a gallery to be", Andy founded the Melbourne Art Rooms (commonly known as MARS Gallery) in Port Melbourne in 2005, transforming an old dairy into a magnificent, two-level contemporary gallery specialising in mid-career Australian artists.
With a savvy eye for emerging talent and a steadfast resolve for promoting Australian artists, Andy has been quietly (although some might argue that Andy doesn't do quiet!) getting their work out into the public domain, into private collections and other forums.
It is through the gallery that Andy enjoys a unique position in the arts world staging regular exhibitions, attending international art fairs, opening  a Collins St pop-up shop, curating special events and consulting on major public art commissions. She also co-ordinates an art rental scheme encouraging others to get a chance to live with great art.
Next week, Andy and MARS Gallery head to Sydney for the inaugural Sydney Contemporary, (September 19-22), Australia's new international art fair presenting modern and contemporary artwork from more than 80 Australian and international galleries. The exhibitor list contains some of the most respected names in the contemporary art world, establishing Sydney Contemporary as a must-see event on the cultural calendar. 
But art is not her only passion. She is a founder of the Off Your Back winter coat collection, a charity – now in its eighth year –which collects winter coats for the needy. She is also an advisor to TLC.
However, while she loves to advance the careers of her artists and gets her causes noticed and supported, she considers her most important job is as a mother of three, wife, daughter and sister to all.
"If you could be anyone, who would you be?  Me silly, I'm the luckiest person in the world!"
Where are you right now?
Exactly where I want to be – gallerist, mother and happy to be alive and well.
Where do you feel most at home?
In MARS gallery  – usually in bare feet talking to people with a glass of wine in my hand and artists who I adore around me.
What's the best advice you've ever been given?
Think before you speak – I just wish I could practise that.
You are most proud of … 
My children, my gallery, my annual Off Your Back charity winter coat collection and my wicked sense of humour (in that order).
People are surprised that …
I'm so naughty.
What makes you laugh?
Woody Allen, The Simpsons, Charles Saatchi and my kids know how to make me laugh when I'm down.
You have an irrational fear of …
Failure.
What are you reading right now?
100 Artists' Manifestos: From the Futurists to the Stuckists selected by Alex Danchev.
What was the last film you watched?
Disney's Aladdin – in my onesies with a big bag of Maltesers and my 12-year-old twins in bed last night.
Most overrated?
Ageing.
Most underrated?
Ageing.
Favourite app?
Art Gallery Guide.
What online sites do you visit everyday?
Ocula – Contemporary Art News, views and exhibitions from around the globe.
Your dream lunch date?
A man who makes me laugh.
Which six people would you invite to dinner?
Woody Allen to make me laugh, Brad Pitt to stare at, Barack Obama to help me understand world issues, Nelson Mandela to help me solve them, the Dalai Lama to make peace through the dinner, Rupert Murdoch cause he turns me on with all that power and money, and David Attenborough to help me save the planet and plan my next holiday to Costa Rica.
Your guilty pleasure?
Too many to list, but number one would definitely be stuble and a tool belt!
Your favourite tipple?
Vintage Krug thanks!
Your favourite destination/holiday?
Zanzibar every time.
Your style icon?
Andy Dinan.
If you could be anyone, who would you be?
Me silly, I'm the luckiest person in the world.
What is your go-to outfit/your signature style?
Happiest in a black Eugenie cashmere round-neck jumper, black leggings, black suede knee-high riding boots, Hermes vintage bird scarf and my jacket depends on weather – at the moment it's a Max Mara leather. Diamond studs, Rolex watch, pure cotton underwear  from GAP and a black lace bra from La Perla!
What does every woman need?
1: A sense of humour
2: To know how to make a martini
3: When to walk out on a man and when to stay
4: The perfect black dress (I recommend Valentino for this; you will only need one your whole life)
5: To waltz well
6: To be able to cook a signature dish
7: To believe in herself and know how loved she is
8: Good health
9: A friend who would ride shot gun for you,  hold your hair when you are throwing up and take a bullet for you.
What was the last thing you bought?
A Daniel Agdag sculpture. It's made with a cardboard box and an 11 scalpel and took him four months to carve.
What is your greatest extravagance?
Time thinking alone – it costs nothing but is the hardest thing for me to get.
If money was no object, what would your dream purchase be?
A small private island in the Caribbean.
Three things you can't live without?
So easy.  Viki, Ali and Will – they are my three children.
What 10 things are in your handbag?
Red chanel lipstick, black MasterCard in Hermes mustard wallet, mints, new green Chanel sunglasses, lots of business cards, my iPhone, tissues and postcards to my next exhibition. That's all I need!
Success is …?
How you take each day.
Beauty is …?
My daughters' smiles.
Style is …? 
Subjective – you either have it or you don't.
To find out more and to see what's on, go to MARS Gallery or email andy@marsgallery.com.au

MARS Gallery
418 Bay St, 
Port Melbourne, 3207
Victoria, Australia
+61 (0) 3 9681 8425
Do you know a stylish woman with a stylish life? Maybe a leader in her field you would love to read about? Why don't you let me know so I can schedule an interview.
Ever stylishly yours …