This wonderful noble hue is guaranteed to brighten any winter wardrobe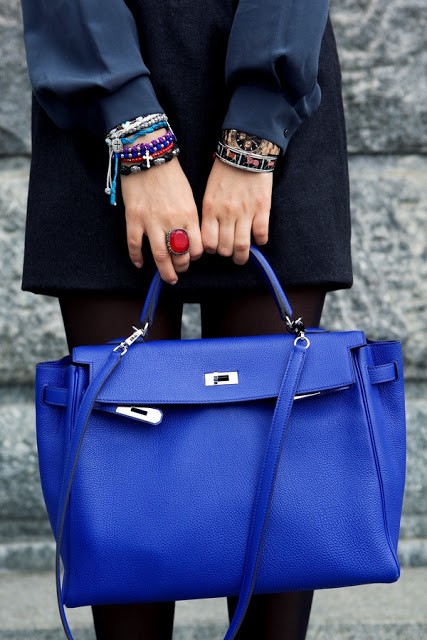 ASSOCIATED with status and dignity — think bluebloods and blue ribbons — this noble hue has influenced wardrobes throughout history.
Blue can be strong and steadfast or light and friendly. It is a colour of trust, honesty and loyalty. Blue is reliable, responsible and evokes inner security and confidence, hence the power suit of the corporate world and the universal uniform of police officers. And medium tones, such as cobalt, are associated with intelligence, stability and conservatism.
In many cultures, blue is significant in religious beliefs and is believed to keep the bad spirits away. In Iran, blue is the colour of mourning, while in the West the something blue bridal tradition represents love.
The colour also reduces stress, creating a sense of calmness, relaxation and order. And just as seeing red alludes to the strong emotions invoked by the colour red, feeling blue or getting the blues represents the extremes of the calm feeling associated with this colour.
Don't have this wonderful colour in your wardrobe? Then it's time to take a risk. Be daring. What every woman needs is a shade of the blue in her wardrobe. It suits everyone. Wear with black, navy, white, camel, red, orange, green … actually, you could team it back with almost any colour. And this rich cobalt tone will complement any skin tone. So make it your new go-to colour for the season. All you have to do now is shop the look.
STYLE TIPS
* Combine light and dark blues to convey trust and truthfulness
* Mix blue with green for a natural watery palette
* Add grey for understated elegance
* Throw in a dash of blue to cool down a hot red or orange scheme
* Grab attention with the contrast of blue and yellow
* Blue and white is fresh, crisp and nautical
* Use blue with silver or gold accents for an elegantly rich appearance
* You don't have to wear solid colours; look for prints or patterns with the colour as well and wear back with plains
WHY NOT
* Team a chunky cobalt blue or turquoise necklace with a crisp white man-style shirt for that client meeting
* Wear gold or silver jewelled sandals with cobalt blue pants for a casual weekend lunch
* Wear a nautical striped top with a red skirt to change up your workwear look
Ever stylishly yours ….