1: JULY'S WARM EMBRACE
HOW gorgeous is this unseasonal burst of sunshine!  It's been absolutely wonderful sitting in it's warm embrace dreaming of some exotic destination! Maybe to an island in the Maldives, a hillside in Tuscany or even a roadside somewhere in the south of France!
Alas, back to reality.  As I sit on my balcony soaking up some much-needed vitamin D and thinking about what to cook for dinner tonight, I can't help but notice the wonderful green flush that has appeared across the urban landscape. How good was the rain last week! All the gardens and parks have drunk at the table of Divine Intervention on those liquid jewels from heaven!
But after such a fantastic start to the season, I almost forgot that it is winter. (Sorry if friends and family in the southern states don't share my enthusiasm!) But here we are in July. And this week's sunny disposition heralding the second half of the year,  is so unseasonal. But before I get too carried away, I am reminded that we are destined for more rain and cold weather soon. Well it is winter after all!
2: A LITTLE CLUTCH OF SPARKLES
IF you're heading out this week for a cocktail with the girls or on a date night, you'll certainly be in need for some glamour. And you can't get more glamorous than this evening purse.
I just happened upon this blinglicious flower cage minaudiere here from Olga Berg. A name synonymous with contemporary style, quality and fashion-forward thinking, this little purse ticks all the boxes for me! Their online site has got some great little evening purses with unexpected finishes and opulent fabrics, but this, perhaps, is my favourite as it would sit perfectly into my wardrobe. But ladies, be prepared for some unwanted bag envy attention. You're sure to be shining like a beacon!

3: DIAMONDS ON THE HEELS OF YOUR SHOES
SHE'S got diamonds on the soles of her shoes … well almost!
These fantastic jewelled loafers from Witchery have little crystals embedded in their heels. But the best news is that they're on sale. Wear with opaque hose and a gorgeous full skirt in black or jewel tones. Maybe you'd prefer a "le smoking" look with slim-leg cropped pants, matching fitted jacket and white silk shirt. Or dress down with jeans and a black roll-neck. And to pull your look together, why not team with the gorgeous diamante minaudiere above.
Whatever you choose, these shoes are guaranteed to put a sparkle in your step!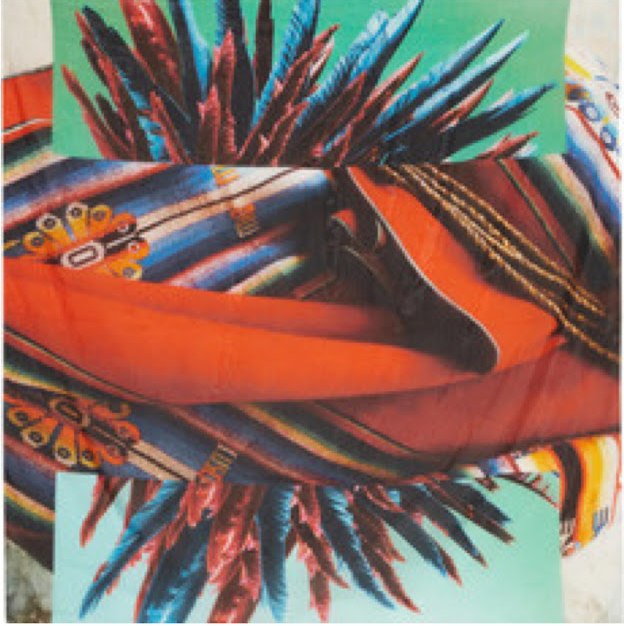 4: MATE IN PERU
ICONIC fashion photographer Mario Testino can now add designer to his impressive CV.
Having photographed everyone from Princess Diana to Kate Moss, he is putting his name on a range of accessories. It's the first collection he's collaborated on and, of course, it's to benefit a cause very close to his heart. The MATE Asociacion is a not-for-profit cultural intiative founded last year to promote the arts of Lima, Peru – Testino's birthplace.
The collection comprises of silk-blend scarves (above) and caftans, neoprene shopping bags and purses, and jewellery made from pompoms and Swarovski crystals. The prints on the clothing and the bags are taken from Testino's Alta Moda exhibition of portraits of Peruvians in traditional and festive attire.
Buying a piece means you'll also be giving back as Net-A-Porter, who is selling the collection exclusively, has pledged to give 20 per cent of net sales profits to the initiative.  So get shopping!
5: A SENSE OF COMMUNITY
THE last thing I'm loving this week is just plain old human behaviour.
Growing up a small rural community in northwest Tasmania,  everyone knew everyone — my school friends' parents went to school with my parents. The "old folks" would regale stories of my mother and my grandmother when they were little, and the men had a "I remember when your dad … "  story. You know what I mean.  It was a wonderful childhood and a true sense of community. It was built on trust, values and respect.
I moved to the "mainland" in the early '80s and have moved from city to city, and country to country since — all in the name of a career — estranged from my family and friends. But all by choice. Don't get me wrong, it was great. In many ways, arriving in a new city gives you a wonderful sense of liberty: free from the confines of a family and all the responsibility that brings, free from someone looking over your shoulder, free from judgement and expectation. Free to start all over again in many ways.
But living in a city also brings a sense of  aloneness and anonymity where you share the space at close quarters with people you don't know or have any history with.
So when did it become socially acceptable to feign ignorance and not acknowledge them? We don't make eye contact in the lift, we don't speak on the street and certainly don't acknowledge each other at the local shops.
I've been living in an apartment in suburban Sydney for several years now, and I really don't know anyone here. Sure, I recognise their faces, but I don't know their names or anything about them. We have no history.
However, there's been a change lately. Several of the long-term residents — me included — are beginning to connect. A simple nod and wave across the car park, the obligatory conversation in the lift about the weather, and the recognition and polite chat about the quality of the fruit and veg at the supermarket across the road. Maybe it's just about acceptance and trust — and time. Isn't time a sort of history?
I started to notice the shift a few months back. It started with my next door neighbour, Zoe, who has an elderly aunt who often pops in to walk the dog when Zoe's not at home — as I discovered. One day there was a incident, which had the potential to be a lot worse. So I did the neighbourly thing — short of leaving a casserole at her door — and suggested we exchange numbers just in case a similar situation happened again.
There's now been plenty of nods and waves and polite "hellos" from other residents, a slow but steady recognition of respect. But at the weekend an elderly gentlemen who lives on the floor above saw me at the coffee shop and started talking about certain local restaurants and my thoughts of them. We had a conversation. A real conversation. It was great! It was like we had crossed this imaginary line, like I was worthy to be taken into his confidence.
That little conversation restored my faith in mankind.  However, nothing will ever replace the support structure of the family nor that sense of community I had growing up in Tasmania (where my mother and two of my five sisters have returned), but one can live in hope.
It's all about small steps. Hell, maybe it's time to explore the idea of having a communal "apartment block party" and invite all the residents to drink from the trough of life! So if you see me in the street, say hello!
What are you loving this week? Would love you to share with me. Ever stylishly yours …