OK, so you've graduated to middle age with honours. Apart from the obvious congratulations, it generally means you don't have to suffer for fashion any more. 
Reaching the half-century mark is no longer the matronly death knell of fashionability. You can be in your 40s, 50s and beyond and still look modern and cool, but there are some things a women past a certain age should not wear — silly graphic T-shirts, cropped tops and mini skirts among others. 
The secret to looking relevant without being trendy, comfy without being lazy and sexy without being overt only comes with experience and age. And simplicity is key: a clean, lean silhouette with modern sharp lines is timeless and ageless.
Here are six fashion funks that make women look older than they are, and simple ways to fix them. But remember, great style is truly ageless.
HOW TO GO FROM DRAB TO FAB
1: YOU'RE STUCK IN A STYLE RUT
Unfortunately, style doesn't come with a use-by date (a time — or an age — to ditch your old clothes and invest in new pieces). Instead, sadly, many women (and men) continue to wear the same old pieces — for years! If it ain't broke don't fix it? Right?
Wrong. Without the occasional refresh of clothes (and hair and make-up), you can end up looking dated and older than you really are. Stop relying on the same trusty old pieces and update them with more modern versions that fit well. Ditch the drab boxy old double-breasted jacket for a fab fitted slimline single-breasted version, the mumsy leggings and easy-to-wear fleece for a boyfriend shirt and classic fitted jeans, square-toed pumps for kitten heels or slides, and the longline cardigan for a khaki army  jacket.
You'll not only appear more youthful and on-trend, but you'll probably enjoy getting dressed every morning when you have more modern pieces that fit.
2: YOU'RE STUCK IN A BEAUTY RUT

As we age, our skin tone and hair colour lightens, and our eyebrows gradually thin. So if you haven't changed your hairstyle and make-up since high school, it's time for a change.
Consult a good hairdresser and try a style that's more modern and manageable. Visit your local beauty counter and embrace new colours and products better suited to your skin now — not when you were 20!
Super-thin eyebrows are also harsh and ageing, but make-up really helps. I used to have fabulously thick brows, but due to fashion trends, heavy-handed make-up artists and age, they are no more. As a blonde I feel quite naked without mascara and my eyebrows. So for the past decade or two, I've had to draw them in.  I could opt for a feather touch eyebrow tattoo, but right now my favourite brow pencils are Sisley Phyto-Sourcils Perfect, Christian Dior Sourcils Poudre or Elizabeth Arden's Beautiful Color Natural Eye Brow Pencil. Alternatively, look for brush-on gels such as Lancome Sourcils Gel,  Look Fabulous Forever Fabulous Brow Shape or MAC's super-natural looking Brow Set.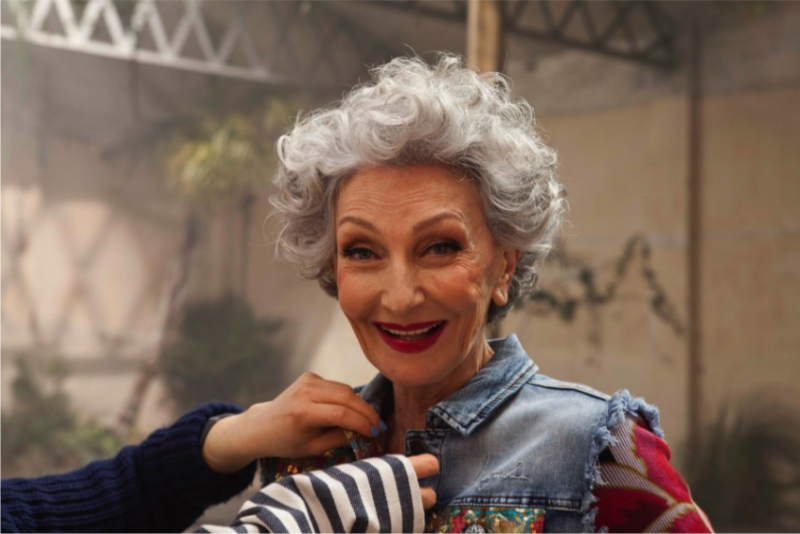 3: YOU WEAR RETRO OR VINTAGE PIECES LIKE IT'S STILL 1985 
We all know that fashion is cyclical. But the second time around is never quite the same as the first incarnation.
However, it's not so much about what you wear but how you wear it. Just because your vintage bomber jacket is circa 1985 doesn't mean you have to dress like you've taken the DeLorean back to 1985. You'll look like you're in costume and older than really you are. Instead, style the bomber with modern staples such as a pleated metallic skirt and loafers or block-heeled ankle boots. Found a fabulous vintage floral full skirt? Wear it with a cropped leather jacket, T-shirt and white sneakers. Or team a vintage pussy-bow blouse with pearls and a pair of cropped jeans and slides. 
Putting a modern spin on retro pieces will not only give you a more contemporary look, but you'll also stand out from the crowd. Win-win!
4: YOU DRESS TOO YOUNG, TOO TRENDY OR TOO SEXY

Turning 50 doesn't mean you can't be sexy, but it doesn't give you license to dress how you used to!
There are certain style choices you should leave behind because you'll look like you're trying too hard. Your signature short sleeveless, low-cut dresses were fine in your 20s. Now in your 50s you need to tone it down — make your outfit more chic and age-appropriate as opposed to flashy and trashy. Instead opt for a long-sleeved mini-dress with heels (if you have great legs), tight jeans and a gorgeous silk blouse (rather than a tight cropped T-shirt), or a figure-sculpting one-piece rather than a bikini.
Sexy equals subtle and strong — remember a stylish woman knows to leave something to the imagination!
5: YOU FORGOT ABOUT FIT

Fit is the key to everything! If you don't care about the fit of your clothes, you run the risk of looking older. Ill-fitting clothes look untidy and like you're trying to hide your body, which looks conservative and makes you look older.
Instead, a clean, lean silhouette with modern sharp lines is timeless and ageless. Think a properly fitted bra (when your bustline falls lower, you get a short-waisted, matronly effect and clothes don't fit properly), a fitted dress with a nipped-in waist and a hemline that sits just on or below the knee, a jacket that fits you in the shoulders and skims your body, or a pair of slim-fitting jeans that just hit your ankle will show your figure in a way that's both stylish and youthful. 
6: YOUR GLASSES ARE SO LAST YEAR
The style and shape of your glasses is just as susceptible to fashion trends and can age you, just like seasonal embellishments and detailing can date your clothes and accessories.
Take a risk and try on something you wouldn't normally wear and see what a difference it makes. However frames and lenses (particularly if you've graduated to wearing bi- or multi-focals as I have and need both optical and sunglasses) can get really expensive, so updating them every year is not always an option.  Instead, look for a modern pair at Vision Direct or OPSM. Or more hip and affordable styles at Oscar Wylee, Bailey Nelson or Warby Parker.  However, if you're on a budget, opt for Transition lenses instead. But the cheap'n'cheerful readers from the chemist are now getting a little trendier.
Know someone who's stuck in a style rut?  Found it difficult to let go of certain pieces in your wardrobe? Or still wearing your trusty old favourites the same way for the past 20 years? Would love to hear from you. A problem shared is a problem halved.
Ever stylishly yours …
*Pictures: Alicia Borras, 70, for Desigual Jeans from Pinterest