From dresses to shoes, the latest silhouettes are bloomin' all over with floral prints from dark and moody to feminine and flirty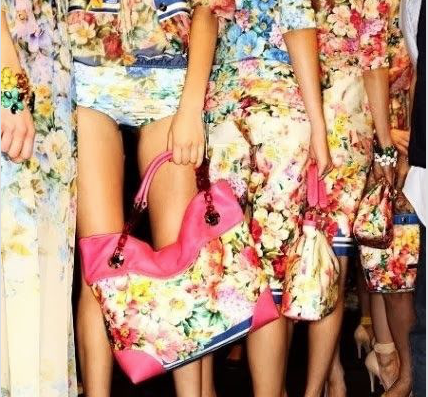 WITH floral prints springing up everywhere on the runways, it's a garden of delights as fashion's ongoing love affair with florals continues this season.
Flower designs range from the dainty and delicate to the big and bold, each displaying its own personality and character. There's something for everyone – soft pastel tones and rich vibrant hues. Whether they're the focal point on a dress or splashed all over a pair of pants, they are the romantic staple of the season.
Florals are about having fun with fashion and embracing the joy and romance of spring. Perhaps this is why the floral trend just won't go away. So be prepared to embrace your inner romantic with floral print pants, dresses, skirts and everything in between.
However, floral prints can strike fear in any woman for being too busy, too old or just plain wrong! No need to worry, follow my tips on how to rock the new florals.
1: Pair a floral with a plain
Love the floral jeans and floral shirt but think they might be too much? Mixing floral prints is fraught with danger. However, it is easier than you think. The key is to wear the print with a plain solid colour, preferably in a coordinating or complementary colour. Because floral prints typically come in multiple colours, any colour in the print is fair game giving you endless styling possibilities.
2: When in doubt stay neutral
It's practically impossible for a floral print to NOT look good with a solid neutral colour. Neutrals such as black, white, grey, ivory and beige are another styling option when you don't have or wear a lot of colours, particularly those found in the actual print. It's also a "safe" styling method when you aren't quite sure of what to wear, but would like to add florals to your wardrobe.
3: Keep it unpredictable
If you think that florals look too matronly or too girly, then it's time to toughen it up and give them a modern edge. Try a leather biker jacket or denim trucker jacket over your dress or skirt. Or throw on a sharply tailored jacket with a pair of floral silk pants. The mix of masculine and feminine is incredibly alluring when used with floral prints. Or go short and wear sexy heels or strappy gladiator sandals.
4: Mind your accessories
Accessories can add to your look, but don't overdo it. Like any statement-making outfit, you need to know when enough is enough. When it comes to florals, remember the KISS mantra — Keep It Simple Stupid! If you're wearing eye-popping prints, keep your accessories neutral and let the print do the talking. Choose just one fabulous pair of earrings, OR a chunky cuff or bracelet, OR a statement necklace. Never all three. Don't even think about small, dainty jewellery which would only be swallowed up by the busy florals. However, other accessories such as bags, scarves and hats can add major colour. Refer to RULE 1. But generally speaking, it's always handy to have a floral accessory in the wardrobe, if only to add an element of whimsy. But before you take a stroll down the garden path, there are a few factors to think about. Which body type are you? What areas do you like to flaunt? What area do you like to hide?
STYLE TIPS
* Mixing floral prints is fraught with danger. Read point 1 above. But if you want to take a walk on the wild side and mix print with print, one print should be smaller than the other. But in the same or similar colour family. But if you really want to mix it up, have some fun and mix print with like-toned or monochrome graphic prints such as spots or stripes.
* Still not sure if you're ready for the garden party? Wear floral prints as a highlight — choose one piece only.
* Florals are available in a variety of sizes, but avoid larger oversized prints if you are full figured. And the same applies with smaller liberty-style prints.
* Avoid large oversized prints if you have a fuller figure as they will make you appear even bigger.
* A plain-coloured jacket will be slimming over a floral dress while brightly coloured pants or skinny jeans will be slimming under a floral top. Play with proportions and see what works best for you.
* A smallish floral print works for everyone.
* A medium floral print will work for thinner people, some pear shapes, hourglass figures and athletic figures, depending on which area you want to flaunt.
* Use a larger floral print where you want to make things seem larger.
* And a smaller floral print when you want something to appear smaller.
Are you on-trend and feel like flirting with florals this season? Will you be pushing the style limits and mixing up two or three pieces of floral to wear together?  I'm game if you are. Would love to hear from you. Ever stylishly yours …
* Picture: Pinterest