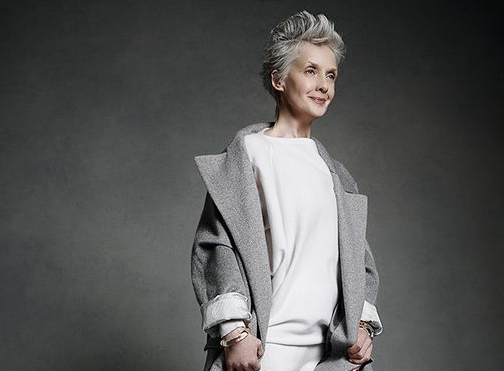 DO you wear make-up?
I ask, because, not all older women do. Some prefer the au naturel look (the "no make-up" make-up look) or only do their face on special occasions. And that's absolutely fine. Maybe they don't feel they need to wear make-up. Maybe their hands aren't steady anymore. Or maybe some products don't look as good as they used to on their menopausal or dry aged skin. All this is true — to a degree.
But the idea of not wearing make-up doesn't suddenly appear at some arbitrary point in life.
Women wear make-up for many reasons: It makes them look (and feel) better and more attractive, it improves their self esteem and self confidence, and it makes them better able to face the day. In short, wearing make-up looks like you care about your appearance. So why are we made to feel that it's not appropriate once we're "over the hill"?
I am not a natural beauty and have worn make-up to cover and enhance my facial features for most of my adult life. Now in my mid 50s, the idea of NOT wearing make-up in my 60s, 70s and beyond just ain't going to happen. Even my 80-year-old mother won't leave the house without applying a little foundation, her eyebrows pencilled in or lips coated with a slick of a bright red or hot pink lipstick. Then she's ready to face the day.
Consequently, as I've now adopted the "less is more" mantra when it comes to applying make-up. I have definitely toned down my routine compared to how I "painted" my face in my 20s and 30s. But there are some things I will never give up. As a mousy blonde (who is slowing turning white), my eyelashes and eyebrows (what's left of them!) are quite fair. So I NEED to pencil in my brows every morning and wear a coat (or two) of mascara on my lashes. I wish I had the confidence of Tilda Swinton who famously doesn't use mascara — even on the red carpet!
Not sure about you, but here's why I believe older women should wear make-up.
NEXT: My seven-part series, The Best Make-up For Women Over 50
WHY OLDER WOMEN SHOULD WEAR MAKE-UP
1: TO LOOK LIKE YOU CARE
First impressions really do count, so it's important to care how we present ourselves. There is something really attractive about a woman who is confident — and comfortable — with her age and style. Be proud of who you are and ALWAYS put on your best face. It's as much about self-respect and looking like you made an effort. A woman who gives up on how she looks is defeated.
2: TO LOOK (AND FEEL) BETTER 
Women of a certain age don't want to be reminded of what they once were. They want to celebrate who they are now and what they have achieved. Older faces benefit from colour and definition. As we age, our hair, skin, eyebrows, eyes, cheeks and lips become paler. So if you apply a small amount of colour and definition, an older face will instantly look better, healthier and, of course, younger too.
3: TO FEEL MORE ATTRACTIVE
When applied correctly, make-up can make you look fabulous! Just because we might have a partner or are no longer interested in relationships or sex, doesn't mean we are devoid of allure and desire. What's wrong with wanting to still be attractive to our partners? But be wary of really slapping make-up on; it doesn't look good on anyone. And ignore current trends such as thick eyebrows, false eyelashes and winged eyeliner. These can look more pantomime than proper on an older face. Subtlety is the key.
4: TO MAKE IT EASIER TO FACE THE DAY
Those women who make the effort to "put on their face", are more inclined to make other changes in their lives. It has inspired many to lose weight, start an exercise regime or just "keep up appearances" when illness or bereavement strikes.
5: TO IMPROVE SELF CONFIDENCE AND SELF ESTEEM
We live in a visual world where people still judge us by the way we look. Unfortunately, as we age we become less visible, so maybe our sense of self worth shouldn't be bound up with our appearance. However, taking the time and trouble over your appearance means that you'll feel better every day. I also believe that it affects the way we are treated.
So why do you wear make-up? Or maybe you don't. I hope this encourages you to feel that make-up is a wonderful boon to an older face. Would love to hear about any tips and tricks  you've found. Ever stylishly yours … 
Picture: Pinterest