Not sure how to rock a capsule wardrobe? No problem. Here's how

IN my previous post I explained how to pack a capsule travel wardrobe. Just to recap: a well-edited, co-ordinating wardrobe is one where all the pieces work together. But you really don't need hundreds of different of pieces to look good. With some careful thought and planning, what every woman really needs are just eight to 10 key pieces to create 30 looks or more. 
In my former life as a fashion editor, one of my most popular stories was "Eight garments, 50 looks". No, that's not a mistake! Eight garments, 50 looks. Yes, really! Every season I would re-work or update the same story idea, incorporating the latest trends, colours and prints, and what was in store that week.
So here's how it's done.
I've chosen 10 pieces from current season collections (all available online from the links below) and worked them back with some key accessories (also available online as well) to create 22 looks. I've still got my training wheels on in regard to how to feature all the pictures in a fantastic user-friendly way, so I've only uploaded 22 … there's about another 25 combinations I can think of! Do you know what they are? But as my technical wizardry skills aren't quite there yet, I didn't want to subject you to any more images! I think you get what I'm trying to achieve.
The key is to keep it simple and varied through the art of co-ordination – by layering, mixing and matching, and using different accessories to create a look that's truly individual, functional and stylish.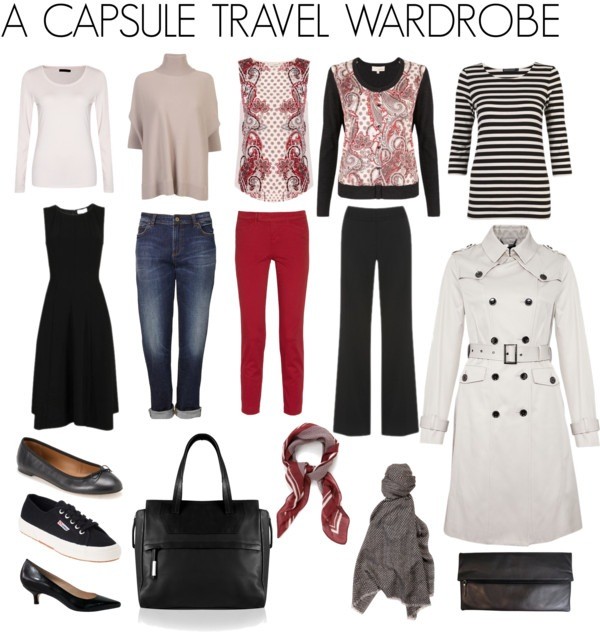 10 GARMENTS, 22 WAYS
Here's what I used
TOP ROW (from left): 
David Lawrence T-shirt; Saba knit; Sportscraft silk shell top; Sportscraft silk and wool cardigan; Sportscraft striped T-shirt,
MIDDLE ROW (from left):
Sportscraft panelled dress; Witchery boyfriend jeans; J Brand pants; Cue stretch pants; David Lawrence trench coat
BOTTOM ROW (from left):
 Country Road leather ballet flats; Superga canvas shoes (from Eclettica); Wittner shoes5; Saba leather tote0; Trenery red silk scarf; Saba herringbone wool scarf; Wittner leather clutch
What are your favourite looks? Any combinations that I've missed? Had your own travel wardrobe disasters? Got some advice to share? Would love to hear from you. Ever stylishly yours …