NOTICED the recent trend of young women colouring their hair grey or silver? It's all the rage on social media, particularly Instagram. Who knew going grey could be so chic.
So why do some older women still struggle with the idea of going grey when young women today are choosing to?
If you've been colouring your hair to disguise the greys — particularly if you have dark hair — the thought of stopping can be scary. But going grey is not just a decision; it's also a process.
The process of going grey — when follicles stop producing melanin — is determined by DNA. Even the speed at which certain sections go grey (temples first for some, the crown area for others) and the colour you get (white or salt 'n' pepper) are also genetically predetermined.
I love the idea of going grey. White blonde as a child, I've got darker with age and am now more of a mousy or "dirty" blonde, and have lightened my hair for years. But a couple of years ago, the grey hairs started appearing along my natural part and right temple. And as the greys multiply, my hair gets lighter.
Both my grandmothers went white and my 80-year-old mother, who was a brunette and more salt 'n' pepper, is now going white. So genetically speaking I, too, will go white. So I've decided to embrace the grey. Simple, right? In practise, no.
I recently caught up with hairdresser Jules Peacocke from Lily Jackson Hair + Makeup (below) — who, by the way, sports a wonderful salt 'n' pepper grey — for a chat about how to go grey gracefully.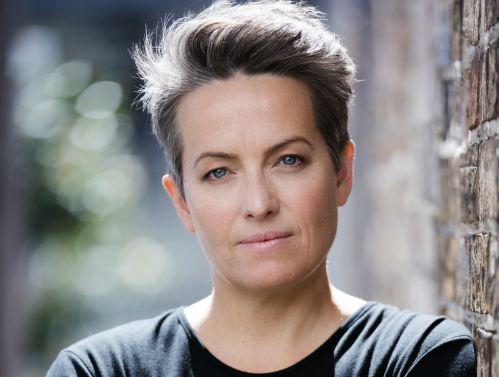 What are the issues faced by women who are going grey?
The biggest issue for most women is how to transition to grey AND keep your hair looking great.
No two people go grey in the same way, so "going grey" really requires a bespoke solution for each individual. The colour of our skin changes with age (as does our hair), so this needs to be taken into account. For example, does the natural shade of grey in your hair complement your skin tone?
Often, in the first years, a colour solution might have been to cover the grey hair with an overall tint or highlights. But growing out any existing colour presents its own challenges and requires a well thought-out strategy depending on how patient or fearful you are about the transition.  It is a gradual process and, for many women, it's a really big step.
The other issue is that we assume that the grey is uniform in appearance. But it is not.
Grey hair has unusual colour tones, such as yellow or green, which need to be corrected. Grey hair also has different densities in different parts of your head. (For example, you might be a really light grey on the front of your head and still have your original pigment at the back.)
Grey hair also has a different texture. So as hair slowly turns grey, the texture of it will change and, as a result, the will behave differently to natural hair. (For example, curly grey hair is often more wiry than natural hair and can be more difficult to control.)
How does one transition to grey?
In the past, the limitations or technology in professional hair colours meant that stylists were not able to create grey shades and tones. But now we have many more tools, products and interesting colour technology that enables us to create bespoke levels of fashion-oriented grey hair. 

What does this mean?
The best news is you don't have to have a really obvious regrowth  and grow out your hair, or look aged and unkempt in the process.
The first thing to consider is how much colour already exists in the hair and the difference between the coloured hair and the original (natural) pigment.
Some clients might need or want a slow transition — this involves gradually growing out the grey and blending through some bespoke colour so that the hair doesn't look flat or unattractive. But other clients are super ready. Generally they've thought about it so a full removal of the colour that exists in the hair, is right for them. How well this solution works depends on the overall health and condition of the hair being treated, and how long the hair is (it's better on shorter hair styles).
Unless you're incredibly lucky to have a pleasant shade of grey and attractive colour densities, grey hair still requires a bespoke approach to looking good. Finding a stylist who can take you on this journey and make it an adventure — and not a stressful experience — is key.
Some of the techniques we use at Lily Jackson Hair + Makeup include:
* Toning down undesirable colours: Removing tones such as yellow or green tinges, or sun-bleached gold brassiness.
* Creating contrast: Be it lighter or darker (highlights or lowlights) but in a minimal way where you might only need touch-ups three or four times per year.
* Putting in MORE grey: Some people have white hair instead of grey and adding in grey tones can create a point of difference, style and more depth and texture to a fashionable haircut.

Is cutting hair really short and letting it grow again the ONLY way?
No, for the reasons mentioned above.
What would you suggest for those who don't want to sacrifice their long hair?
The first thing about long hair is that it must be healthy.
Unfortunately, women attached to long hair often ignore their split or dead ends. These must be removed for any hairstyle to remain healthy, look good and colour to hold. Again, a bespoke approach to colour is needed. Transitioning to grey means allowing incremental amounts of natural colour to show through over a period of time.
Also, having a sharp haircut is essential as grey hair looks best with a strong style.
Can you reverse colour?
We can remove (or strip) colour from the hair but, because of the process, the hair will have no colour. So then we deposit the desired colour back into the hair and this can be a bespoke grey colour.
The colour removal process is not suitable for everyone and definitely not to be attempted if you've been colouring your hair with supermarket or consumer brand colour.
And, finally, will going grey be supportive of a woman's professional goals?
I know many professional women in high-powered positions who would not consider going grey because they feel they would be, consciously or unconsciously, judged and open to bias and prejudice.
But it all comes down to confidence in yourself and your hairdresser or stylist.
MORE: Lily Jackson Hair + Makeup