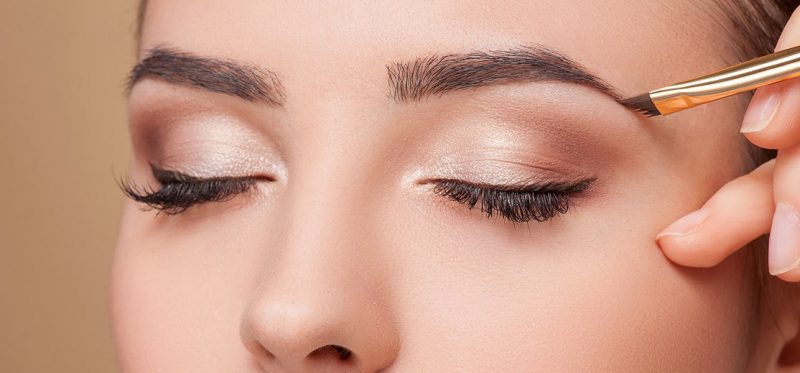 EYEBROWS frame and balance the face, and a well-groomed pair can make your eyes appear larger and give you a mini facelift! In this, part five of the series The Best Make-up For Women Over 50, I explain why eyebrows need to be well shaped and have enough colour to give the face proportion and symmetry.
You may be adept at plucking your own, but older eyebrows can be wiry, bushy and shapeless. So it's worth getting them shaped by a professional. And if your eyebrows are thin, faded and over-plucked, you'll need to restore both shape AND colour.
Thick eyebrows are very on-trend right now. So if you have them, a la Brooke Shields, fantastic. But if you don't — like me — don't despair. I used to have beautiful thick brows, but due to fashion trends and an over-zealous hand, they are no more. (If you keep plucking the same spot, you stunt the hair growth.) That's why you see older women with super thin eyebrows. So now I have to draw them in every day! 

There are many products available — brow pencils, stylers, liners, brushes for powders or Amazonian clay, gel formulations and "stamps" (big on social media right now). So experiment to find what works for you.
First, brush your brows into shape with the spiral end of a brow pencil or an old toothbrush. Then using your preferred product or tool (brow pencil, brush and powder, or gel pencil), gently fill in any sparse areas with fine feathery strokes from the inner eyebrow outwards, through the arch, then the tail. Step back and assess. Then using the spiral end of a brow pencil or an old toothbrush gently brush upwards to blend the colour and restore the shape.
When it comes to colour go for brown tones, even if your brows are black. If you are very fair, a slightly darker brow will give more definition. Blonde brows look best with light brown tones. (However, many blonde brow pencils have red in them. So look for blonde brow pencils with more grey tones). Redheads can use auburn shades. Brunette brows look good with dark brown tones; black hair demands them.
Here are some of my favourites:
* Sisley Phyto-Sourcils Perfect Eyebrow Pencil (this is my go-to favourite)
* Look Fabulous Forever Fabulous Brow Shape
* Christian Dior Sourcils Poudre
* Chanel Stylo Sourcils Waterproof Defining Longwear Eyebrow Pencil
* Lancome Le Crayon Sourcils
* Bobbi Brown Medium Brow Kit
* Bare Minerals Frame & Define Brown Styler
* Glo Minerals Brow Collection
* Billion Dollar Brows
* Tarte Cosmetics Eyebrow Makeup
* By Terry Eyebrow Liner
Still not happy?
Alternatively, get your brows tinted. Perfect before heading off on vacation! But if you're dark haired, tint them a shade lighter (preferably in brown tones) than your natural hair colour.
Or a more permanent solution is to get your eyebrows tattooed. There's a whole new industry of brow tattoo specialists, so before you take the plunge, do your research, get recommendations and meet with the technician for a consultation. One of the best is the feather-touch brow tattoo by "arch angel" Amy Jean. And remember: You get what you pay for!
WHAT IS THE PERFECT BROW SHAPE?
Every face is different and each face needs a specific brow shape. And the arch should be a gradual and very gentle lift.
1. If you have a round face, choose a soft, medium arch.
2. A high, defined arch will shorten your forehead and make the roundness of your lower face even more prominent.
3. If you have a square face or a strong jaw, go with a thicker brow to balance your look and bring the focus to your eyes.
4. Oval faces or petite features should have a thinner, softer brow that doesn't overpower your delicate look.
5. Long faces need a straight brow.
6. Droopy eyes can be "lifted" by slightly arching the brows and extending them out toward the temples (rather than curve the tail down around the eye).
7. Another way to determine your shape: Hold a pencil parallel to the side of your nose and up to the bridge — the inner edge of your brows should start there. To determine the highest point of your arch, place the pencil parallel to the outside corner of your iris. Angle the pencil diagonally from your nostril to the outside corner of your eye to discover where the tail of your brow should end.
8. To maintain your eyebrows, tidy up any straggly hairs underneath and between the brows. Avoid plucking on top, as it can distort the natural shape.
NEXT: The 10 best mascaras for lustrous lashes
* * * * *
All products mentioned are available from department stores, selected pharmacies and drug stores, and specialist make-up stores (such as Mecca Cosmetica and Sephora)
— except where I have made direct links. Other online beauty sites include
StrawberryNet, Beautylish, Adore Beauty, Priceline, Chemist Warehouse, PM Studio, and Cosme-De.com
For tutorials on how to apply your make-up, go here.
* * * * *
Do you have a product that you can't live without? Got a favourite make-up for mature skin? A go-to product? Care to share? Would love to hear from you. Ever stylishly yours …