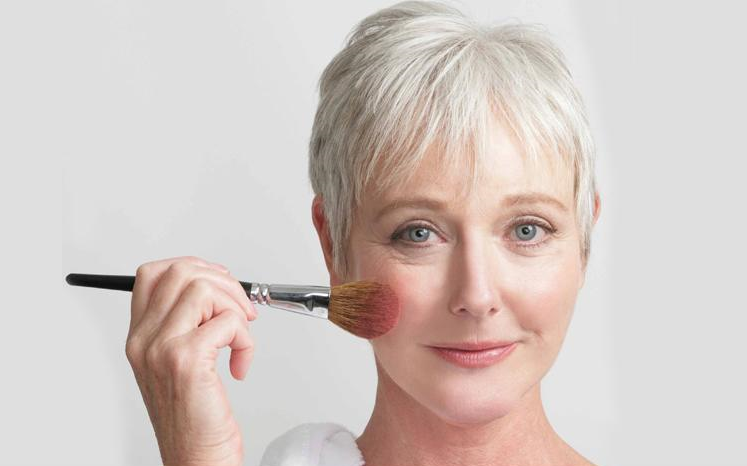 JUST because you're over 50 doesn't mean you can't look your absolute best. It also means you don't have to overdo or undo your make-up. This is the first of a seven-part series on the best make-up for women over 50.
It doesn't matter what your age, you need to find a style that makes you look and feel beautiful. For years, women have been exposed to photoshopped images of age-defying celebrities or lithe young things with their smooth unlined faces. From pout-enhancing lipsticks to wrinkle-reducing creams, images of women with smooth complexions are projected as proof that anti-ageing products work wonders. In other words, young and beautiful equals the beauty — and fashion — ideal.
We all know that is simply not true.
How, then, are older women supposed to have confidence in products promoted by young women who are years away from experiencing the signs and problems of ageing? Unrealistic, yes. Smart, no.
Recently, women of a certain age are having a beauty moment! The beauty industry has seen an increase in products targeting older women. Using ground-breaking technology to create moisturising formulas that flatter and reduce the signs of ageing, there are now entire make-up ranges that specifically cater to the over 50s.
But, unfortunately, many women unwittingly get stuck in a rut by wearing the same products and colours they did when they were 20. Make-up should be less of a mask and more of a second skin. In other words, you want to enhance your natural radiance with a contemporary youthful look, NOT disguise your wrinkles. Long story short, your beauty regimen needs to change as you age.
If you're not sure how to adapt your make-up, speak to the experts. Visit your local beauty counter (drugstore and department store), ask questions and experiment with new products and colours better suited to your skin now — not when you were 20!  And the following six posts, part of The Best Make-up For Women Over 50 series, I have taken the hard work out of it for you.
So, out with the glittery eye shadow and frosted lipsticks, and in with skin-smoothing primers and moisture-rich foundations. When the right products are applied correctly — whether for an au naturel look (the no make-up make-up look), for every day or a special occasion — you can look fabulous!
PRIMERS
THE real secret to flawless make-up is applying a primer between your moisturiser and foundation.
Just as you prime a wall before you paint it, a primer will help your foundation glide on more smoothly. These hi-tech, age-friendly products are designed to make your skin look smoother and silkier, pores smaller, keep your make-up in place for hours and, best of all, give your face an instant lift. A thin layer on dry lips will also keep your lipstick fresh and bold all day, and prevent it from seeping into the fine lines around your mouth. But the key is to make sure your primer and foundation have the same base — oil or water — so they don't repel each other.
And once your skin is primed, you may need less foundation than you think — or none at all. But if you do use foundation, let the primer dry first. Then set with a translucent powder and you're set to go out.
Remember, there are different primers for different skin types.
For oily skin: If you have oily skin a make-up primer is essential. Try an oil-free primer or mattifying lotion, or one with salicylic acid. One with fine silky powders will help to absorb excess oils and keep your foundation in place for longer.
For dry skin: If dryness is your biggest concern, you'll need a gel-based or illuminating primer that will hydrate your skin and make it look radiant and prevent your foundation and powder settling into areas of loose, flaky skin.
For combination skin: A primer with light reflecting particles can make your face look dewy and luminous for an enviable, healthy glow.
Try:
* Laura Mercier Foundation Primer
* Estée Lauder The Illuminator Radiant Perfecting Primer + Finisher
* Bobbi Brown Vitamin Enriched Face Base
* Dr Barbara Sturm Anti-Aging Primer
* Cover FX Illuminating Primer, or in Australia
* L'Oréal Paris Base Magique Transforming Smoothing Primer
* Nars Pore Refining Primer
* Stila's Stay All Day 10-in-1 HD Beauty Balm
* Clinique's Superprimer Universal Skin Primer
* Benefit The POREfessional PRO Balm Primer
I also like to use Genie Instant Line Smoother, especially if I'm going out. It goes on clear and matte, has a tightening effect and can be used anywhere you want to look smoother — on the under-eye bags, wrinkles around your eyes, forehead and around mouth and lips.
NEXT: The best foundations and concealers for a more mature face
* * * * *
All products mentioned are available from department stores, selected pharmacies and drug stores, and specialist make-up stores (such as Mecca Cosmetica and Sephora)
— except where I have made direct links. Other online beauty sites include
StrawberryNet, Beautylish, Adore Beauty, Priceline, Chemist Warehouse, PM Studio, and Cosme-De.com
For tutorials on how to apply your make-up, go here.
* * * * *
Do you have a product that you can't live without? Got a favourite make-up for mature skin? A go-to product? Care to share? Would love to hear from you. Ever stylishly yours …