Before Kuta, Seminyak and Ubud there was Sanur — the sleepy little seaside village that is the real jewel in the crown on Bali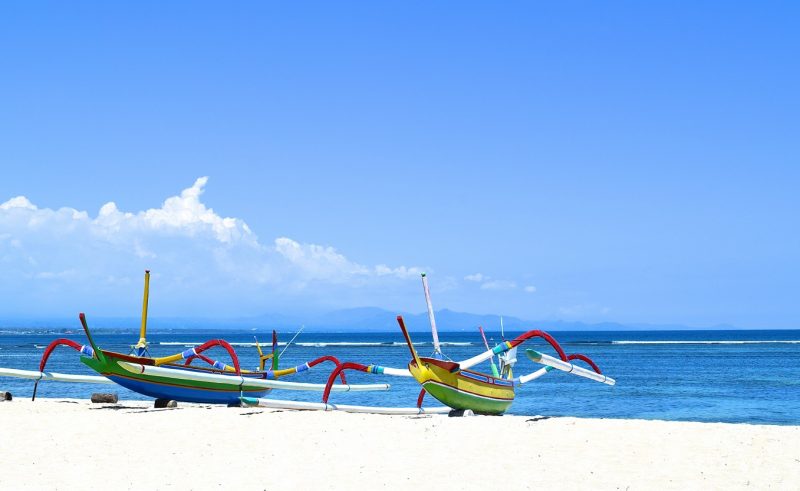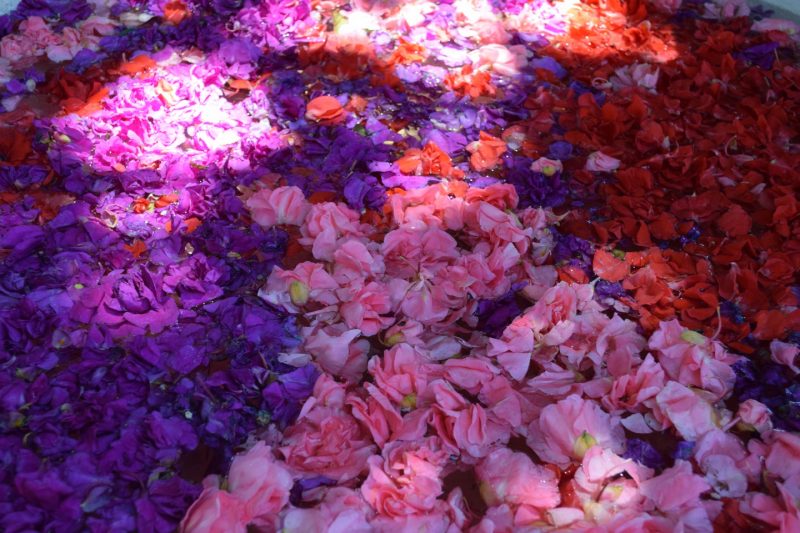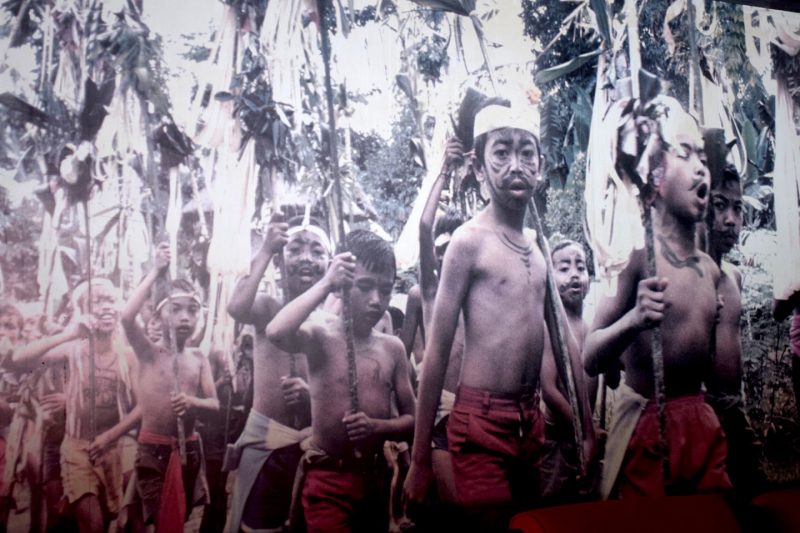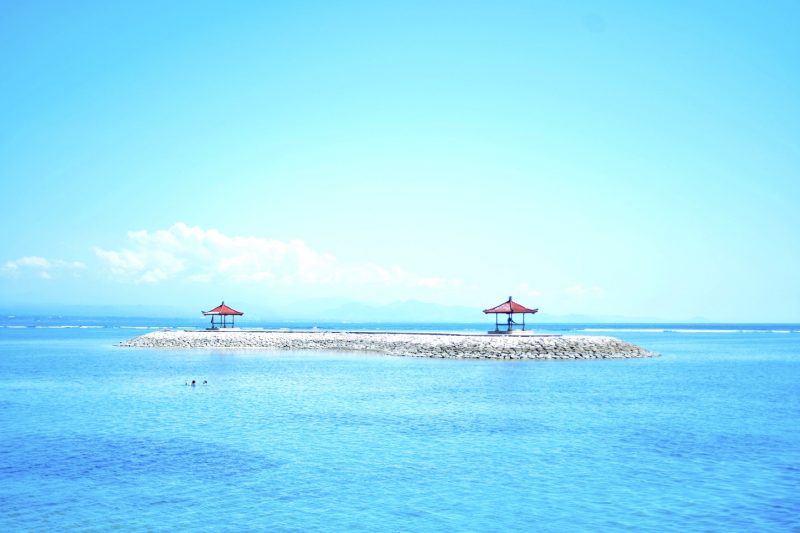 FOR those who follow me on Instagram or Facebook would know that I recently had a three-week holiday in Sanur, the little southeast coastal resort area in Bali. 
Before Kuta, Seminyak and Ubud there was Sanur, Bali's first upscale resort area and largest traditional village.
With its 5km stretch of white sandy beaches and lush tropical garden surrounds, Sanur (pronounced sah-noor and frequently referred to as "Snore") has blossomed into a dynamic holiday destination. It has been a destination of choice for many who have been travelling to this little slice of paradise since the first resort, Tandjung Sari, opened in 1962 — making it one of the first resorts in Bali. 
In those early days, royalty, Hollywood stars and old money came calling — Queen Ingrid of Denmark, Jackie O, the Rothschilds, Gettys and Rockefellers, Greta Garbo, Elizabeth Taylor and John Wayne. Literary types Cartier Bresson and Gore Vidal, and media barons James Fairfax and Rupert Murdoch rested their heads there. Even Australian prime ministers John Gorton and Malcolm Fraser were seduced by the charms of Tandjung Sari and Sanur. The late '80s and '90s brought rock stars and models, including Mick Jagger and Jerry Hall (who famously "exchanged vows" there in November 1990), Iman and David Bowie (who, in his will, requested that his ashes be spread in Bali), Yoko Ono, Sting, Elle Macpherson and Julia Roberts. Even Princess Diana came to stay.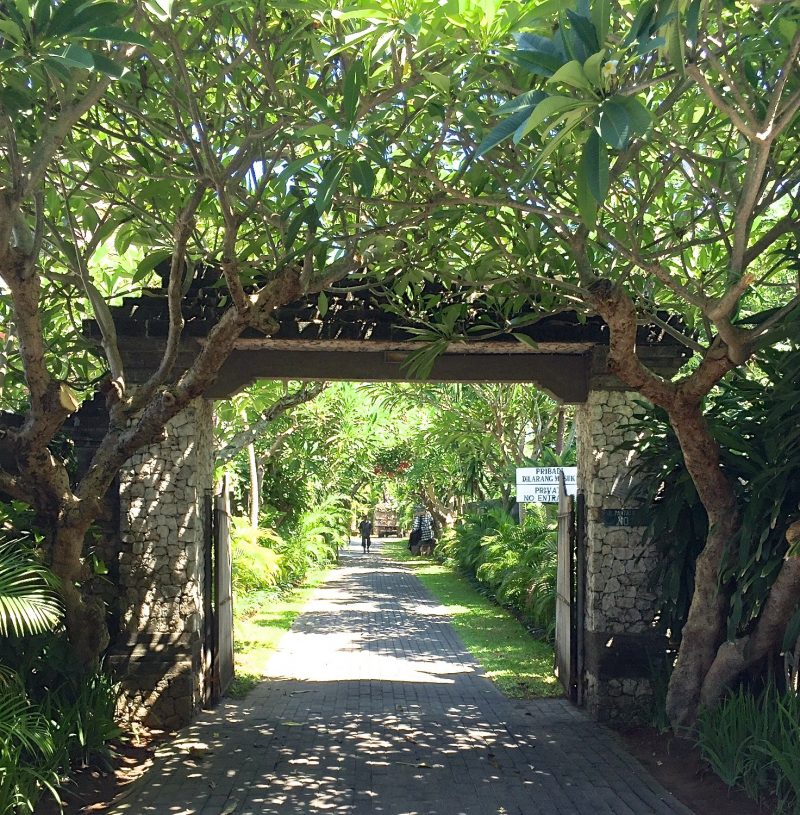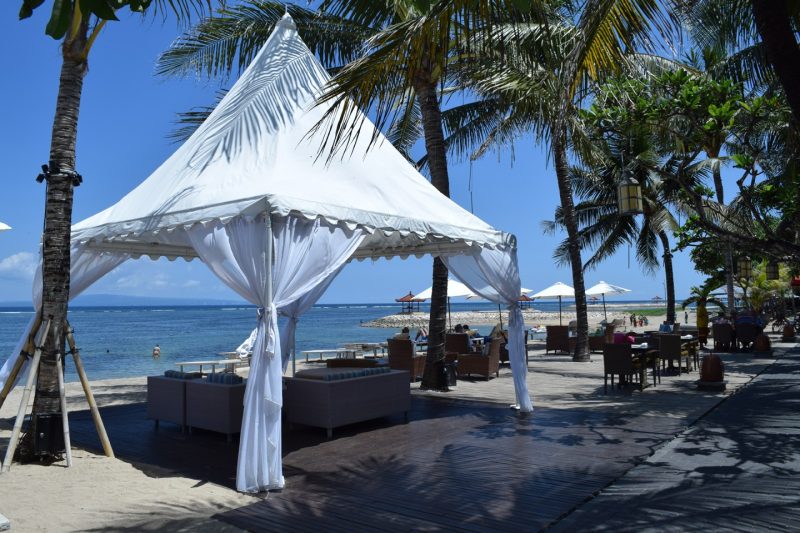 Originally a fishing village with the surrounding land covered in rice paddies, the rural paradise has changed dramatically over the decades, but is still largely unspoiled by the burgeoning development dollar — unlike the trendy west coast locations of Seminyak, Legian and Canggu. 
But despite its high-profile pedigree and in stark contrast to the west coast, Sanur offers a more relaxed and laid-back experience.  
Situated just south of the equator, Bali is warm and tropical. The average year-round temperature stands at about 30C (or 86 Fahrenheit) with a humidity level of about 85 per cent and overnight lows of about 21C (69F). But Sanur's coastal location provides welcoming sea breezes. So keep your wardrobe light and simple. Think unfitted garments such as shorts, dresses, shirts and T-shirts, kaftans and sarongs in natural fibres — cottons, linens and silks. And don't forget to pack your swimmers. All hotels and most villas have a pool. However, if you're on a budget, there's always the beach. 
The main street — Jalan Danau Tamblingan — although less busy than the shopping meccas of Kuta, Legian and Seminyak, is brimming with quaint boutiques, traditional market stores and great restaurants, cafes and entertainment venues. There is plenty to do and see — including the Prasanti Blanjong, an inscribed pillar dating back to 913AD, Bali's earliest dated artefact — and myriad eating places to satisfy all palates and pockets, all within a five-minute walk of the beach. Sanur beach is surrounded by a reef, so the immediate beachfront is a lagoon of sorts where the water is warm and calm and perfect for a variety of water sports ranging from stand-up paddle boarding, snorkelling, para-sailing and kite boarding. Or take a load off and indulge in a beach massage or rent a sun lounge for the day. 
Alternatively, go walking or hire a push bike and explore the back lanes and jalans or the beachfront promenade, which is perfect for an early morning walk and obligatory sunrise photo or evening stroll or cycle at sunset.  Want to explore further afield? Take a slow boat to nearby Nusa Lembongan and Nusa Penida. Or maybe a fast boat to Lombok or the Gili Islands.
While Bali is all about wellness retreats and resorts, there is plenty of opportunities to satisfy even the adrenalin junkies.  
Anda pernah gaya.
WHERE TO EAT
Generally speaking, food — and food service — can be quite hit and miss in Bali. Unlike Thailand, Vietnam, Japan and China, which have very strong cuisines, Indonesia isn't known for great food. But most local businesses offer good Western-style dishes in addition to some of the more popular local dishes such as nasi goreng, nasi campur, satays, gado gado and beef rendang. Here are my picks of the best eating places in Sanur.
Cafe Batu Jimbar (Jl. Danau Tamblingan 75A)
Open for breakfast, lunch and dinner, Cafe Batu Jimbar (above) has undergone much change since opening in the 1990s. And, in my opinion, it consistently serves up the best food — and great coffee — in Sanur.  On Sundays, it hosts a small local market selling clothing, fresh produce and a breakfast/brunch buffet featuring local Balinese dishes and pastries. And on Tuesday and Sunday evenings, a local salsa group performs. Next door is The Pantry a delicatessen that stocks a great selection of cheeses and cured meats, pantry essentials, freshly baked bread, wines and spirits, and fresh fruit and vegetables.
CharMing (Jl. Danau Tamblingan 97)
A favourite of many, this absolutely gorgeous restaurant is hidden behind a large carved wooden door at the southern end of Sanur (past the former Hyatt property). With a large "parquet" wooden floor of sleepers built around large frangipani trees and walls covered with carved wooden doors, this open-air pavilion is more fine dining than cafe.
Le Bon Vivant (Jl. Danau Tamblingan 156)
Having only reopened a year ago after a major refurbishment, this elegant brasserie-style space serves up classic, time-honoured French Belgian and Italian fare. It also has a fantastic wine list. Open for dinner only.
Reef (Jl. Danau at Maya Sanur 89M)
Part of the new Maya Sanur Resort and Spa, this beachside pavilion dining room is worth the walk from the main drag through the complex. The architecture of the resort is spectacular and the sunset views just as sublime. The resort also has two other restaurants — Kuu (Japanese) and Graze — both accessible from Jl. Danau Tamblingan.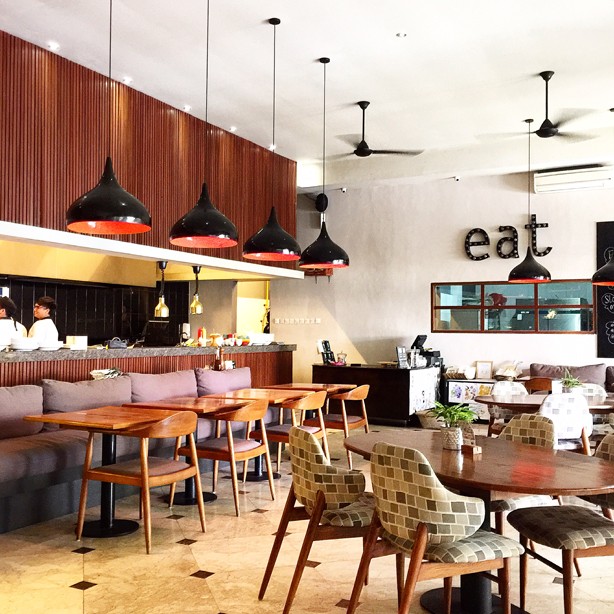 Grocer & Grind (Jl. Danau Tamblingan 152)
With outposts in Seminyak, Jimbaran and Canggu, Grocer & Grind serves up a great breakfast, lunch and dinner, and perhaps the best coffee on the strip (above). It also has a quiet little open-air corner bar perfect for late-night drinks, or prop yourself at the table and chairs under the coconut tree in the front garden.
Soul in a Bowl (Jl. Danau Tamblingan 180)
At the southern end of Sanur (past what was formerly the Grand Hyatt) is this modern contemporary cafe that opened mid 2015. The creative fusion menu offers an all-day breakfast menu, lunch basics of salads, sandwiches and foccacias, and dinner. The upstairs lounge area is perfect for late-night drinks.
Manik Organik (Jl. Danau Tamblingan 85)
With the slogan "food for the soul", Manik Organik serves up gluten free, MSG free, vegan and raw dishes and is a favourite with the health conscious and yoga set.
Cafe Smorgas (Jl. Danau Tamblingan 56)
It's been around for a few years, and as the name suggests, has a Scandinavian feel. Offering salads, sandwiches and wraps, they now have a "beer garden" (BakFicken) for late evening drinks and nibbles.
The Porch Cafe (Jl. Danau Tamblingan 110)
This quaint little cafe has been around for many years. A little old-school but they do great cafe basics. They also have a quiet reading room/library area for those looking for a little respite from the heat.
Italian eateries and wood-fired pizza ovens are plentiful but perhaps the pick of the bunch is The Village Cucina Italiana restaurant (Jl. Danau Tamblingan 47), followed by Trattoria Cucina Italiana (Jl. Danau Tamblingan 190) and the legendary Massimo (Jl. Danau Tamblingan 228).
Mama Sate (Jl. Pungutan 2)
Right near the Sindhu night market, this little warung is clean, cheap and focussed on one thing and doing it well — satays. They also offer a good variety of salads and other dishes. And don't forget to grab one of their free postcards.
Luhtu's Coffee Shop (Jl. Pantai Sindhu)
Positioned on the beachfront at the end of Jl. Pantai Sindhu is Luhtu's. A coffee shop attached to a bakery, which bakes bread and pastries daily, is a bit of an institution. Take a table on the sand and watch the locals start their day.
Other cheap-and-cheerful local eating spots include Warung Little Bird (Jl. Danau Tamblingan 34), Warung Downtown (Jl. Danau Tamblingan 142) and Warung Coconut Tree (Jl. Danau Tamblingan 63).
Want a more authentic experience? Then head to the Sindhu night market (corner of Jl. Danau Tamblingan and Jl. Pungutan) and wander the stalls offering favourite local dishes at bargain prices. Try the martabak (savoury and sweet varieties), bakso and nasi campur. For a sweet treat, you can't go past the deep-fried donuts and local fruit delicacies. Looking for more? Then check out this TripAdvisor list or Bali website list of other restaurants in Sanur.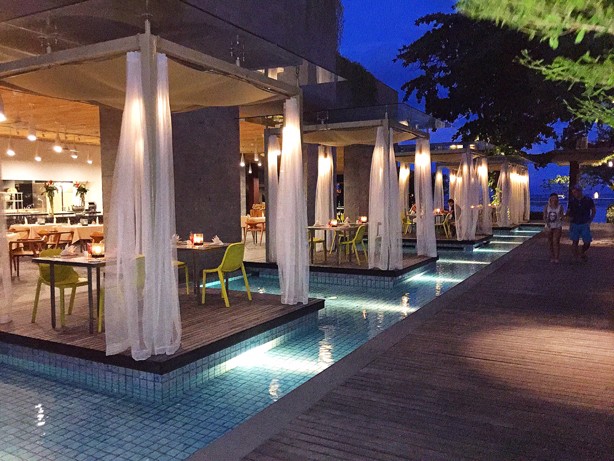 WHERE TO DRINK
Nearly all the cafes and restaurants serve alcohol, although wine choice is limited and expensive. You'll frequently see the name Hatten, a Balinese winery producing wine in Sanur using fruit from Australia. I recommend their rose. Hatten produces two other labels — Two Islands and Cape Discovery (slightly more expensive) — again crafted in Sanur from Australian grapes.
Tree Bar at the Maya Sanur (Jl. Danau Tamblingan 89M)
With its beachfront position, this is the perfect spot to enjoy happy hour and a sunset drink (Reef restaurant, pictured above). Very sophisticated with a great list of wines and cocktails. Opened in December 2014.
The Fire Station (Jl. Danau Poso 108)
This Australian-owned gastro/pub, located at the southern end of Sanur, is the pick of the pubs.
Nu Lazer Bali (Jl. Danau Tamblingan 82)
Eat, sip and dance at this one-stop entertainment venue. Enjoy live music and a DJ most nights.
And, of course, you can also enjoy a drink at the bigger hotel establishments —  The Oasis Lagoon (Jl. Danau Tamblingan 136A) or go low key at the open-air corner bar at Grocer & Grind (below). Or wander the promenade and prop yourself at any of the resort and villa bars that dot the beachfront. Preference is always given to house guests, but they're not going to say "no" to a paying customer.
Want to take some wine back to your room? The Pantry (next door to Cafe Batu Jimbar at Jl. Danau Tamblingan 75A) has a more than reasonable selection, there's also a new bottle shop called Red & White wine and spirits (Jl. Danau Tamblingan 77) and Hardys has a bottle shop.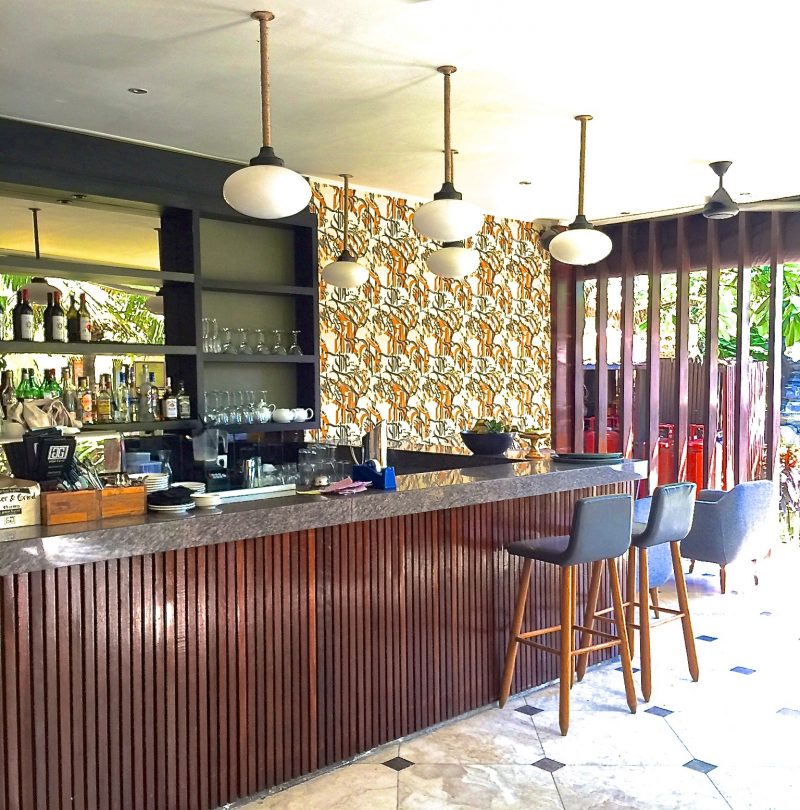 WHERE TO SHOP
Much of the fashion offered in Sanur is smart casual, relaxed resort-style wear in light cottons, linens, silks and rayons. But if you're after more upmarket on-trend fashion, then you will need to head to Seminyak. Adding local colour are the smaller local boutiques and little market stalls offering sarongs, easy-wear dresses, tops and shorts, and, of course, the obligatory souvenirs and gifts. These aren't fixed prices, so you can bargain, but please be respectful.
For tailored linen pieces with a contemporary Italian feel, you can't go past local brands Biasa (Jl. Danau Tamblingan 37), Ibisa (Jl. Danau Tamblingan 88), Io & Co (Jl. Danau Tamblingan 138), or Casa Moda (Jl. Danau Tamblingan 121). Great for the more mature woman.
Uluwatu (Jl. Danau Tamblingan 90), is the Sanur outpost of the local label, which specialises in handmade Balinese lace and traditional kebaya styles.Inti boutique (Jl. Danau Tamblingan 69), offers more resort-style pieces suitable for the more mature women. Choose from brightly coloured silk kaftans and oversized tops to wear over swimwear, other local brands, shoes, bags and accessories. And although I never actually got there, the shop at Hotel Peneeda (Jl. Danau Tamblingan 89) stocks some contemporary linen pieces.
For more modern younger lifestyle brands, head to Sol & Luna (Jl. Danau Tamblingan 51) or Body & Soul  (Jl. Danau Tamblingan 143).
Vahine & Tane (Jl. Danau Tamblingan 69)
This French label has a strong Tahitian handprint and offers men's, women's and children's colourful, casual tropical basics.
For something a little different, you can't go past Ghostbird Swoon (Jl. Danau Tamblingan 75).
This one-of-a-kind, modern space is quickly gaining a cult following after being named as fashion retailer of the year by influential Balinese magazine, Yak. Just down the road is SKS SimpleKonseptStore (Jl. Danau Tamblingan 77), also the only store in Bali, it carries exclusive ready-to-wear Italian and Japanese contemporary clothing for men and women, plus bags and accessories.
Hardys (Jl. Danau Tamblingan 136) is the Balinese  supermarket and department store. Ground floor is the supermarket but the first floor is a treasure trove of cheap colourful tropical basics. It's not high fashion and it's not to everyone's taste. But if you search through the racks and racks of outfits, you are guaranteed to find something.
Local jewellery brands Kapul-Laut (Jl. Danau Tamblingan 96) and Grammes (Jl. Danau Tamblingan 51) both have stores in Sanur.
There are also plenty of souvenir-type shops selling authentic Balinese art and craft, the best of which is Rita Gift Shop (Jl. Danau Tamblingan 81). For traditional hand-woven batik and ikat fabrics, try Nogo (Jl. Danau Tamblingan 104). Jenggala (Jl. Danau Tamblingan 51) is the locally made Balinese pottery and ceramics brand.
If you're prepared to venture a little further afield, a short 10-minute drive will take you to the DFS Mal Bali Galleria, large shopping mall on Jl. Bypass.
Want a body massage, a pedicure or just a foot massage? All the resorts offer spa experiences, but there are plenty of small operators touting their wares along the strip. But if you're after something a little more special, head to Cosmo Salon and Spa (Jl. Danau Tamblingan 176) for all your hair, body and beauty needs.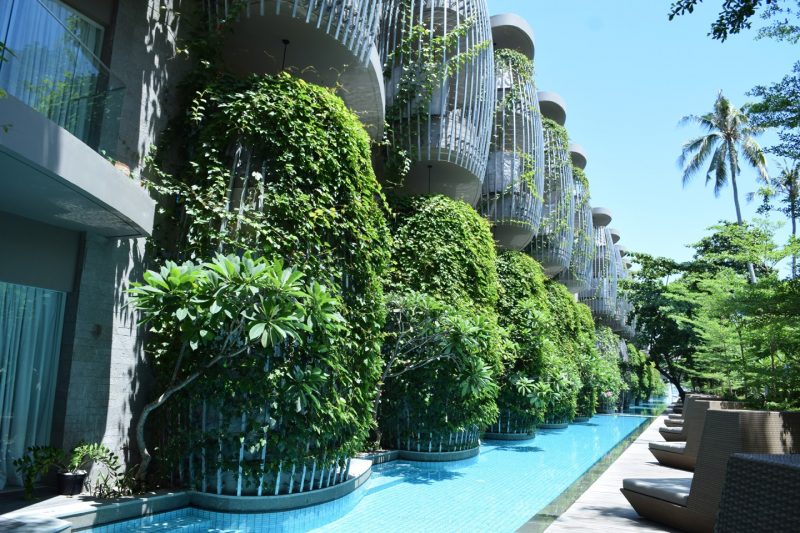 WHERE TO STAY
More expensive than Kuta, and less expensive than Seminyak, there are more than 4000 accommodation rentals in Sanur. But if you're on a budget or want a more authentic experience, try a Homestay instead. 

Tandjung Sari (Sanur's original resort villa)
Maya Sanur Resort and Spa (above)
Villa Batu Jimbar
Villa Jepun (private villa)
Villa Laksmi (private villa)
Fairmont Sanur Beach
Bali Puri Horomi
Griya Santrian
 Try Tripadvisor or FlipKey for more rentals.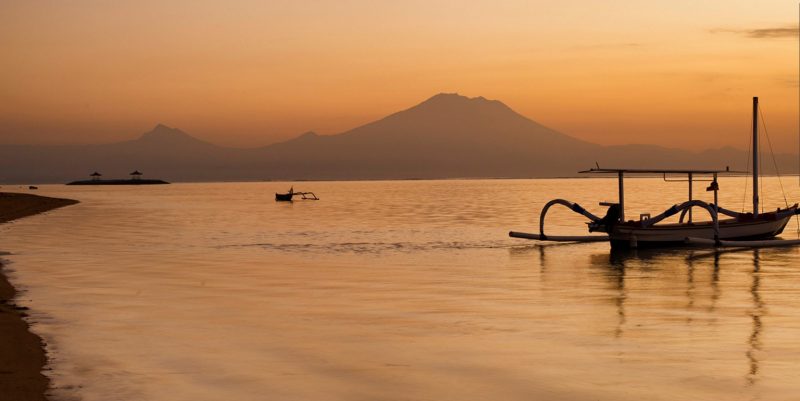 HANDY HINTS
* Take cash. Many international banks are not supported here, so if you wish to withdraw cash from an ATM, be mindful that not all cards are recognised. Also, you will be slugged a hefty fee for every ATM transaction. There are several ATMs along the strip, and there's a bank of them outside Hardys (Jl. Danau Tamblingan 136). To avoid any additional costs, take cash with you and get it changed to rupiah there. 
* Traveller cards. If you are concerned with security in regard to card skimming, get a traveller's card (MasterCard or Visa) and transfer your funds to that. Most businesses accept them as they are just like a normal credit card. But check first before using as some businesses, such as Hardys, do not accept them as I discovered. Keep your cash for taxis, drivers, market stall holders and the smaller warungs.
* Changing money. If you need to change your money use reputable money changers such as the ones at Circle K convenience stores. Or look for ones that are authorised by a government agency. DO NOT change your money with those that promote their services with boards on the street. They generally charge a commission and are not always honest. 
* Taxis. If you hail a taxi (the air-conditioned blue Bali Taksi or Bluebird Taxi), ask them to turn on the meter. But if you wish to take a taxi for a greater distance, negotiate a fee first. Alternatively, you can hire a driver for the whole day. He will wait for you while you shop, lunch or sightsee. Again, negotiate a daily fee. However, you will notice some old dilapidated green minivans locally known as a "bemo". The seats in the back are generally removed and have no air-conditioning, but they're cheap. And they're good for short trips up and down the main drag.
* Pushbike hire. A great way to see Sanur is by pushbike. Bikes are available for hire from various businesses around town. Or hire a small motorbike/scooter — but you MUST have an international drivers permit which covers you for motorbikes.  
* Tipping. You don't need to leave much, but it's a good habit because life is cheap in Bali. That 2000Rp note (which is roughly 20c Australian) could provide rice for a family for one meal.  
* Lounge on the beach. You don't have to be staying in a hotel or resort to access the sun lounges on the Sanur beachfront. You can hire one for the day. Some charge 30,000Rp for one lounge or 50,000Rp for two. However, you can probably get one for 25,000Rp, but you'll need to provide your own towel. 
* Dress standards. There are no real dress codes, except for when visiting temples. Women must wear long sleeves and a sarong to cover the legs. But most religious sites generally have sarongs to offer guests before entering the sites.
* Wi-Fi. One of the great things about Bali is that nearly all establishments offer free Wi-Fi. Take a seat at any cafe, order something then ask for the Wi-Fi password — staff are more than happy to oblige. So then it's possible to walk up and down the strip, dropping in and out of Wi-Fi.
  Been to Bali but not Sanur? Love the tropics? Got any tips, hints or just like to share your experience, I'd love to hear from you. Ever stylishly yours …