Before Kuta, Seminyak and Ubud there was Sanur — the sleepy little seaside village that is the real jewel in the crown on Bali
FOR those who follow me on Instagram or Facebook would know that I recently had a three-week holiday in Sanur, the little southeast coastal resort area in Bali. 
Before Kuta, Seminyak and Ubud there was Sanur, Bali's first upscale resort area and largest traditional village.
With its 5km stretch of white sandy beaches and lush tropical garden surrounds, Sanur (pronounced sah-noor and frequently referred to as "Snore") has blossomed into a dynamic holiday destination. It has been a destination of choice for many who have been travelling to this little slice of paradise since the first resort, Tandjung Sari, opened in 1962 — making it one of the first resorts in Bali. 
Cafe Batu Jimbar (Jl. Danau Tamblingan 75A)
Open for breakfast, lunch and dinner, Cafe Batu Jimbar (above) has undergone much change since opening in the 1990s. And, in my opinion, it consistently serves up the best food — and great coffee — in Sanur.  On Sundays, it hosts a small local market selling clothing, fresh produce and a breakfast/brunch buffet featuring local Balinese dishes and pastries. And on Tuesday and Sunday evenings, a local salsa group performs. Next door is The Pantry a delicatessen that stocks a great selection of cheeses and cured meats, pantry essentials, freshly baked bread, wines and spirits, and fresh fruit and vegetables.
CharMing (Jl. Danau Tamblingan 97)
A favourite of many, this absolutely gorgeous restaurant is hidden behind a large carved wooden door at the southern end of Sanur (past the former Hyatt property). With a large "parquet" wooden floor of sleepers built around large frangipani trees and walls covered with carved wooden doors, this open-air pavilion is more fine dining than cafe.
Le Bon Vivant (Jl. Danau Tamblingan 156)
Having only reopened a year ago after a major refurbishment, this elegant brasserie-style space serves up classic, time-honoured French Belgian and Italian fare. It also has a fantastic wine list. Open for dinner only.
Reef (Jl. Danau at Maya Sanur 89M)
Part of the new Maya Sanur Resort and Spa, this beachside pavilion dining room is worth the walk from the main drag through the complex. The architecture of the resort is spectacular and the sunset views just as sublime. The resort also has two other restaurants — Kuu (Japanese) and Graze — both accessible from Jl. Danau Tamblingan.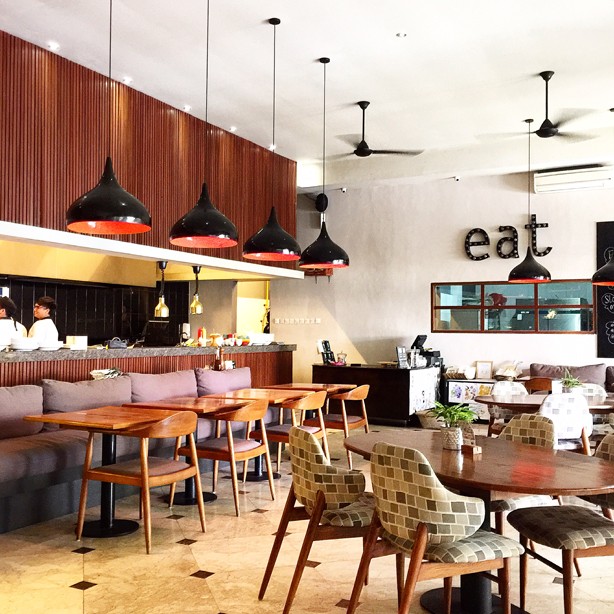 Grocer & Grind (Jl. Danau Tamblingan 152)
With outposts in Seminyak, Jimbaran and Canggu, Grocer & Grind serves up a great breakfast, lunch and dinner, and perhaps the best coffee on the strip (above). It also has a quiet little open-air corner bar perfect for late-night drinks, or prop yourself at the table and chairs under the coconut tree in the front garden.
Soul in a Bowl (Jl. Danau Tamblingan 180)
At the southern end of Sanur (past what was formerly the Grand Hyatt) is this modern contemporary cafe that opened mid 2015. The creative fusion menu offers an all-day breakfast menu, lunch basics of salads, sandwiches and foccacias, and dinner. The upstairs lounge area is perfect for late-night drinks.
Manik Organik (Jl. Danau Tamblingan 85)
With the slogan "food for the soul", Manik Organik serves up gluten free, MSG free, vegan and raw dishes and is a favourite with the health conscious and yoga set.
Cafe Smorgas (Jl. Danau Tamblingan 56)
It's been around for a few years, and as the name suggests, has a Scandinavian feel. Offering salads, sandwiches and wraps, they now have a "beer garden" (BakFicken) for late evening drinks and nibbles.
The Porch Cafe (Jl. Danau Tamblingan 110)
This quaint little cafe has been around for many years. A little old-school but they do great cafe basics. They also have a quiet reading room/library area for those looking for a little respite from the heat.
Italian eateries and wood-fired pizza ovens are plentiful but perhaps the pick of the bunch is The Village Cucina Italiana restaurant (Jl. Danau Tamblingan 47), followed by Trattoria Cucina Italiana (Jl. Danau Tamblingan 190) and the legendary Massimo (Jl. Danau Tamblingan 228).
Mama Sate (Jl. Pungutan 2)
Right near the Sindhu night market, this little warung is clean, cheap and focussed on one thing and doing it well — satays. They also offer a good variety of salads and other dishes. And don't forget to grab one of their free postcards.
Luhtu's Coffee Shop (Jl. Pantai Sindhu)
Positioned on the beachfront at the end of Jl. Pantai Sindhu is Luhtu's. A coffee shop attached to a bakery, which bakes bread and pastries daily, is a bit of an institution. Take a table on the sand and watch the locals start their day.
Other cheap-and-cheerful local eating spots include Warung Little Bird (Jl. Danau Tamblingan 34), Warung Downtown (Jl. Danau Tamblingan 142) and Warung Coconut Tree (Jl. Danau Tamblingan 63).
Want a more authentic experience? Then head to the Sindhu night market (corner of Jl. Danau Tamblingan and Jl. Pungutan) and wander the stalls offering favourite local dishes at bargain prices. Try the martabak (savoury and sweet varieties), bakso and nasi campur. For a sweet treat, you can't go past the deep-fried donuts and local fruit delicacies. Looking for more? Then check out this TripAdvisor list or Bali website list of other restaurants in Sanur.
Hardys (Jl. Danau Tamblingan 136) is the Balinese  supermarket and department store. Ground floor is the supermarket but the first floor is a treasure trove of cheap colourful tropical basics. It's not high fashion and it's not to everyone's taste. But if you search through the racks and racks of outfits, you are guaranteed to find something.
Local jewellery brands Kapul-Laut (Jl. Danau Tamblingan 96) and Grammes (Jl. Danau Tamblingan 51) both have stores in Sanur.
There are also plenty of souvenir-type shops selling authentic Balinese art and craft, the best of which is Rita Gift Shop (Jl. Danau Tamblingan 81). For traditional hand-woven batik and ikat fabrics, try Nogo (Jl. Danau Tamblingan 104). Jenggala (Jl. Danau Tamblingan 51) is the locally made Balinese pottery and ceramics brand.
If you're prepared to venture a little further afield, a short 10-minute drive will take you to the DFS Mal Bali Galleria, large shopping mall on Jl. Bypass.
Want a body massage, a pedicure or just a foot massage? All the resorts offer spa experiences, but there are plenty of small operators touting their wares along the strip. But if you're after something a little more special, head to Cosmo Salon and Spa (Jl. Danau Tamblingan 176) for all your hair, body and beauty needs.